Latest News | Press | Products & Services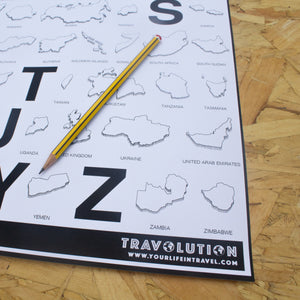 From Afghanistan to Zimbabwe you can colour your own history in travel country by country making your very own A-Z in Travel. Document your life in travel™ by colouring each country you have been to throughout your life so far. personalised: Each print is personalised with a line of text of your choice at the bottom to make each artwork extra special. size: A1 artwork print UNFRAMED - 841mm high x 594mm wide  230gram paper Please note countries are not to exact scale to allow more room to have fun colouring in! Get 15% off using Summer-15 at checkout until 31st July 2022
---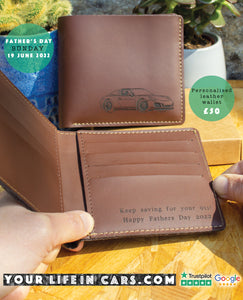 Fathers Day Sunday 19 June 2022
---
• dailydriver • fullpageadvert • new product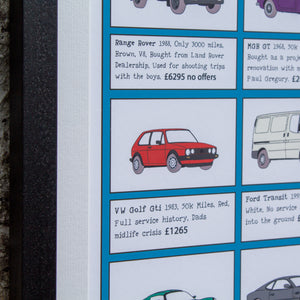 Looking to add a little more detail about your cars? Then the personalised Daily Driver™ artwork is the one for you.The Daily Driver™ bespoke artwork pays tribute to the car adverts of a bygone era. Your personalised Daily Driver™ will include all the cars you've owned over the years documented by hand with a choice of colours. It includes personal messages and details for every vehicle.
---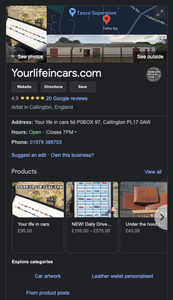 We are receiving some great reviews both on Google and Trustpilot! These reviews mean so much to us as a small company and makes us strive to carry being original and go the extra mile for our clients to produce truly personal and special illustrated gifts. We hand draw and make all of our artwork to order to your exacting requirements. If you are looking for a gift that is above and beyond a standard personalised gift, look no further, you have arrived at the right place.    Please read some of our reviews from previous customers to help make up...
---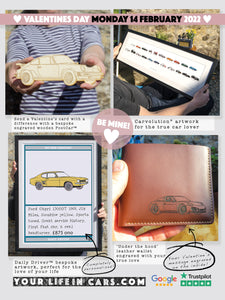 Remember to order bespoke artwork early as you can! Last order date for Valentine's Day is Monday 7th February.